About The Ezra Project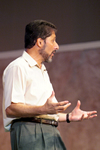 Created in 2001, The Ezra Project features the teaching ministry of Bible teacher, Neil Silverberg. Birthed from a concern that many local churches were not adequately discipling their members in the Scriptures, Neil began this ministry as a means of aiding them in this vital task.
The ultimate goal of The Ezra Project is to give God's people a heart for Scripture and thus assist local leadership in the important goal of equipping people in the Word of God. Since the first day God called Neil he sought to imitate the example of Apollos who was "mighty in the Scriptures" (Acts 18:24). For over thirty years he has diligently given himself to the careful study of God's Word. This has allowed him a life of rich insights into the Scriptures.
Neil carries a special burden to help believers see Jesus Christ come alive in the written Word. A strong component of his teaching ministry is to illuminate the Old Testament as the basis for understanding the New.
Samples of Neil's audio teachings are available in the downloads section and full copies may be purchased from our online store.
The Ezra Project is a non-profit, non-denominational ministry. We are committed to providing exceptional Biblical teaching regardless of a customer's ability to pay. If you cannot meet the suggested offering, we will gladly accept whatever you can afford.